Part 1 of our Chilean Volcano Extravaganza started in Puerto Varas enjoying the views from the shore of Lake Llanquihue  of Osorno and Calbuco at sunset drinking IPAs off our landlord's Brewery deck.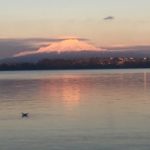 We grew excited with the potential till we picked up our rental car the next day. Our Chevy Spark(aka Sparky) took high level jenga skills to find room for our gear inside the car. Once we mastered that, we pushed Sparky up to the Teski Refugio and ski club on Volcan Osorno. We relaxed in the late afternoon sun too blissed out from the beauty to notice the dark clouds moving in. By 7 we knew tomorrow would be a survival/yes I rode Osorno tour, but the next morning brought us a surprise, a fresh coat of freezing rain.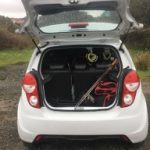 We debated picking chains up, our friend Diego even told us, 'Its spring, the roads will be fine.' We took a short walk along the road and slid about 10 feet in our running shoes when we tried to stop. Sparky would need something with more traction to get out of there.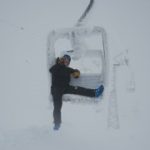 The realization that we may spend another night prompted us to go up to the base area and assess the skiability of the snow. As we approached the bottom lift we saw 7-8 skiers coming down. We heard them approach through the clouds on the fresh frozen rain and saw they were a rando group from Europe equipped with small back packs, skinny skis and tights. We greeted them and asked how far they skied and how it was, ' le merd.' , said the guide. A woman told us they went to the top of the lifts. We looked at our watches and saw it was only 10 am, what were they going to do with the rest of their day? We went for a skin at 12 hoping sun breaks and warming temps would clear the road and give us some visibility for the ski down. An hour later we ripped skins in a small clearing and raced down in small pockets of wind blown duff. Views of the Lake through the clouds give us the feeling we were on the set of the Hobbit. By the time we reached the refugio, the roads were clear and we headed to Pucon via the incredibly scenic Interlago route to meet up with some old friends, Adam and Welling.
Four years ago, they left Seattle for their own live abroad adventure with their young daughter in tow. They even had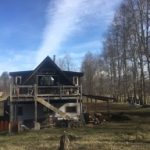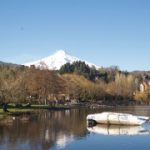 their second child while living in Chile. Pucon spoke to them and now they are building their life on a beautiful Campo with Villarrica starring at them thru their bedroom window. A waterfall with a swimming hole in their backyard and a 3,000′ mountain behind, life on the Campo seemed idyllic. Pucon itself sits on the shore of Lago Villarrica, under the shadow of Volcan Villarrica which erupted as recently as 2015.
We went up Villarrica the next day at the crack of noon. Adam had a desire to drop down the face his house looked at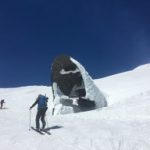 everyday. As we climbed up from the base area, Adam pointed out several lifts that were casualties of Volcanic eruptions. It felt like a lift graveyard with lava flows destroying two chairs  with no plans to replace them. We topped out in a swirl of sun and toxic gases amazed at the sheer number of peaks surrounding us. Adam led us to a steep rollover and said, 'It goes!' A couple of test turns and we ripped down a smooth 45-degree face onto a wind buffed sastrugi bowl. 2000' later we stood on a ridge overlooking a giant canyon of corn…. Hundreds of creamy turns we arrived at the truck we left earlier with cold beers and chips. It was so good, we came back the next day and toured the lower bowls and spines in perfect spring skiing! After 3 days of touring and hot springs we packed up the truck and headed North to Corralco and Nevados de Chillan..to be continued in Part 3.