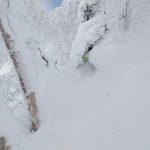 What a season! So many of you got out, got trained and rallied to so many cool destinations like Japan, Canada, Iceland,the Alps…. With so many days on your gear it becomes apparent what works and what does not. I had a great opportunity to try out a number of new pieces of gear and here are the highlights: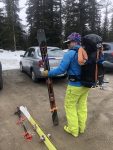 Technica Zero G Pro Tour Boots– Simply the best thing I put on my feet in many years. My friend, Ian N. was appalled on our Boulder Hut Trip at my raving on and on about how progressive the flex was since I had been a Dynafit Vulcan guy for over 8 years. Every relationship changes and once I slipped into the Technica's  wide ranging walk mode with its soft forward flex going uphill and lock down carbon cuff on the down, I never looked back. I punched the toe box for space, everything else was Italian craftsmanship at its finest, fast and smooth…
Shift Bindings(Atomic/Solomon)- Took them to Japan, then to Crystal, Chair Peak and only took them off when I started heading into the Alpine. I grew up ski racing and love the feeling of stepping into an alpine binding. The heel locking you in and the elastic feel of driving and flexing the ski without losing that precious energy makes high speed turns such a rush! The Shift brings that sense of security at speed to touring with an alpine step-in binding that morphs into a tech toe for the uphill, giving you back that touring efficiency. Crystal, Alpental, Japan, La Grave, the list goes on how this binding makes it easy to take one pair of skis to rally around on a powder day on the lifts then grab an afternoon tour to get away from the crowds.
BCA Scepter Aluminium Poles and 35 CM Saw–  I used the poles and found the scraper grip useful and yet the way the saw integrated into the flicklock was so solid, it became my go to for doing Extended Column and Propagation Saw Tests. The Scepter Poles have excellent swing weight and are light enough for long tours.
K2 Wayback 96 and Blizzard Zero G 95– Made the podium for the best spring skis for high alpine adventures. Lightweight, quick edge to edge and fun to rail at high speeds make these two easy choices for multi-day tours and big volcano days. The main difference is the tip profile. The K2 rocker is softer and floats in soft snow, while the Zero G is stiffer and will missile into the snow rather than float over. Both hold and edge and whip around easily, making steep descents easy.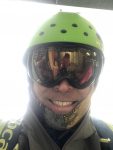 K2 Route Helmet– I have had 3 of them and will keep using them. They are light(10 oz), fit well and are rated for skiing and biking. Protection from rock as well as a high speed fall become a concern when you meet a person who had a brain injury… So easy to take it with me when the weight makes it almost invisible on my pack or head!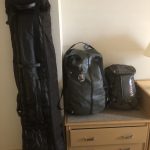 Douchebag Ski Bag– Wow simply the easiest bag to recommend, well built, carries 2 pairs of skis/snowboards easily as well packing the rest of your kit. It rolls through the airport with some serious steeze then rolls up when not in use, what is not to like, maybe the price.. It did go to Japan and the ability to roll it up when not using it really made a difference when driving and staying in small hotel rooms.
The honorable mentions are:
BCA Stash 40– built to last and made it to the Wapta, cragging at Index and trekked the Salkantay;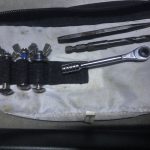 Topeak TT2524 Ratchet Rocket Lite DX Tool– slim, light weight binding tool that ditched 4 oz from my repair kit, woot woot!
And finally the gear that keeps me in shape for all my adventures-Uphill Athlete. Scott Johnston, Steve House and Kilian Jornet put intelligence and experience into the needs of mountain sports and respect the time necessary and available to most people. I have used many of their programs as well as their Nutrition Plan and all have helped me get ready for my goals.
I hope this helps you work toward your goals and look forward to talking about our next adventure soon!
Cheers,Matt