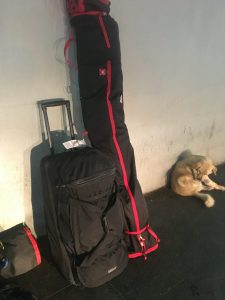 Bariloche, Refugio Frey, Volcanoes of Chile and Patagonia sat high on my to do list and stood at the other end of a 24 flight keeping them far away until I confirmed my reservation last month(July). The plan: spend 29 days of September to ski as much as possible. The season started slow, but like watching a Seattle sports team, the last month has brought on the best ski season in almost a decade! We piled our equipment on and off several planes, buses and taxis for 3 days of continuous travel from Seattle to our hostel in Bariloche,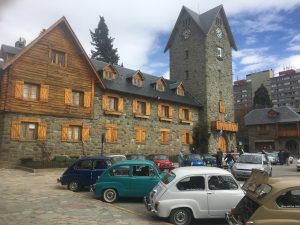 OMG-Bariloche surely stands as one of the most iconic and beautiful ski town on this planet. It wraps around the shores of Lago Nahuel Huapi, a very large, jaw dropping beautiful Glacial lake with granite, snow covered towers slowly transitioning into a high, cliff infested desert. The natural beauty of the mountains above the lake kept us staring, repeating the same words, 'this place is so unbelievably beautiful', for the next week.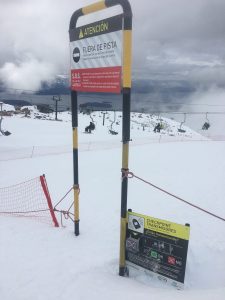 The promise of new snow, beta and beer brought me to my friend, Diego Allolio, the South American Profesor de Avalancha. Diego, his wife Maca(the map maker), their infant son and dogs treated us to great Argentine hospitality, arming us with maps and gave us enough liquid courage to go get some pow. Diego pointed out his favorite tours and beer so we could explore the goods, and we did.We took a day to ski Catedral, considered one of the best ski areas in South America and it showed us why. Great big alpine bowls dropping into steep, flowing tree -skiing led us to explore fun side country and recon the approach to the Frey Hut the next day. An intense snow shower gave us another 10 cm before the day was over, giving us hope for some great riding at the Frey as well as some concern, no easy way into the hut.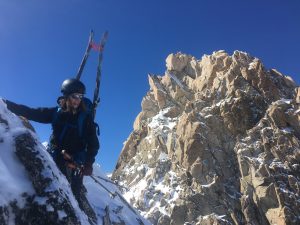 The next day dawned cloudless and calm and we knew this was our opportunity to enjoy the best conditions locals have seen in years, we did… We left the ski area on a wind scoured boot pack for twenty minutes from the top of the ski area to arrive at the first notch we could cross into the famous Van Titter Valley. We dropped 1,600' of boot top pow through orange granite towers and glacier carved bowls into the Lingua, the infamous dense forest of Argentine Patagonia. We made a few errors navigating the Lengua till we left the trees behind and arrived at the Frey….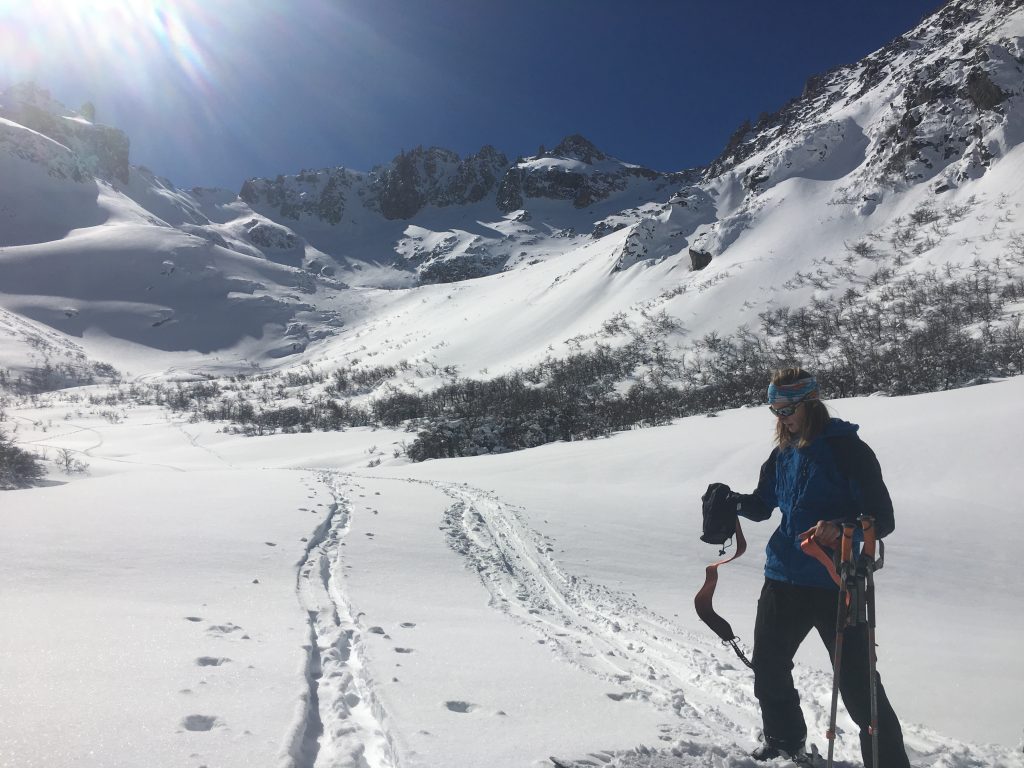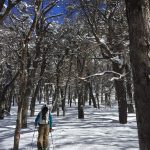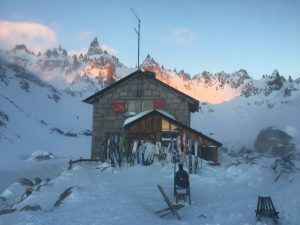 The Refugio Frey stands in a small class of huts that offer terrain, matched with a staff that brews their own beer, bakes their own bread, and schreds the gnar! Many people have come here before, we carried their beta with us, yet weather gave us what we could ride. As the other guests at the hut joined us for dinner, we met fellow Cascadians, Pitkin and Betsy who were wrapping up an month of riding in Chile. We shared many common friends and proceeded to ride the next week together. we spent several nights hanging out with Pana, Juane and the rest of the crew, learning about them, the area and working on our spanish.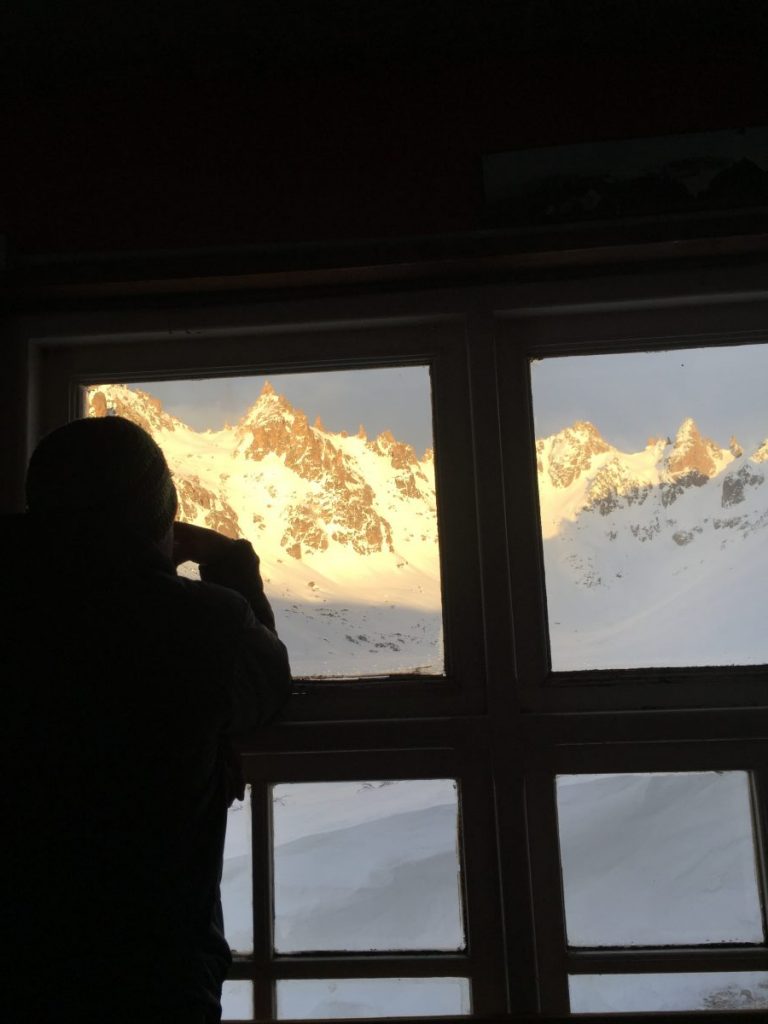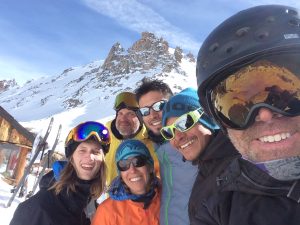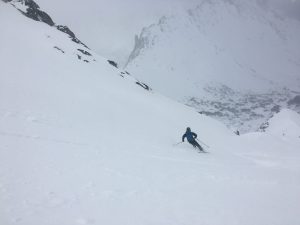 Day 2 started with some great SE runs of the biggest peak, Torre Principal. Rolling upper bowls lead into a variety of gullies and couloirs that gave us two mind blowing laps! 500 meters of granite torres mixed with steep lower chutes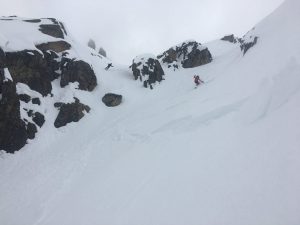 Day 3 started with Hippy pow above the hut and Lago Schmoll then led us to several couloirs that simply were the reason we came. 300- 400 meters of granite lined walls, steep and wide enough to skin up, deep enough to burn memories in our soul.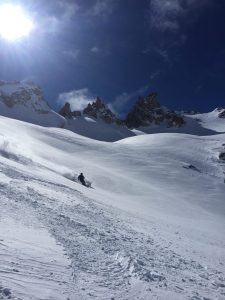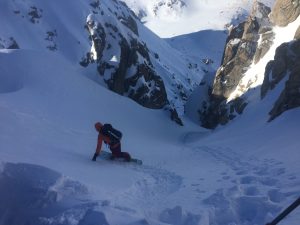 We went back to town the next day to avoid a windstorm, which blew our powder into the next mountain range. One last tour to Cerro Lopez, which both the hut staff and Diego recommended as one of the best in Bariloche, it did not disappoint. A long taxi ride took us out to Colonia Suiza, a postcard perfect neighborhood with Cerro Lopez rising 2,000 meters above the Lake. We hiked the first 400 meters on a trail then switched to skins.We arrived at Refugio Lopez to the local brewpub owner hitting a kicker with his amigos and the hut guardian. We powered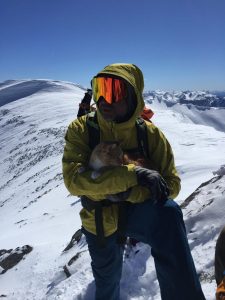 up for the next climb and starting skinning, the hut kitty followed our skin track, a first for me. #alpinekitty, aka Dulfer topped out with us what can only be described as the South American version of the Shuksan Arm, enormous rollers with cliffs and gullies that roll to and past the Refugio. Dulfer summited the ridge with us, then ripped SE pow down, Cat Skiing! We made sure he made it back, the last time he followed some tourers, they left him and he spent two days avoiding Condors. We wrapped up the day @Gilbert's Brew Pub, our new friend's place with their IPA and a steak dinner, not much more Argentine than that! Next stop, Chilean Volcanoes….