Every season around this time—often sooner—we start dreaming about winter. Before long, our dreams turn into plans and plans become reality. This evolution from office-time daydreaming in the fall to shredding wintertime powder is a process that we shouldn't take lightly, and it rarely is, especially when it comes to our gear.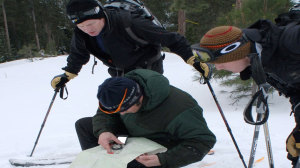 If you're a backcountry snowshoer, skier or rider, odds are you already prepping for the coming snow. It's good practice to prep for your season by changing the batteries in your avalanche beacon, getting your skis/board tuned, dialing-in your pack and other gear, and maybe you're even sweating away in a conditioning class at your gym. Volumes of enlightening articles have pontificated about this pre-season ritual—both print and online.
But what about a tune-up of your brain? For Avalanche Safety read more from Executive Director of NWAC
Scott Schell on what it takes to get your mental game ready.
Sharpen your mental game with New Tools for planning ski tours this season such as:
Crystal Mountain Guidebook and Ski Atlas– due December 17 and you can pre-order from Ascent Outdoors;
Digital Guidebooks for Snoqualmie Pass and Crystal on Rakkup then test your tools at the Intro to Touring Seminars.
App like Windy, Avalanche and
How to Train your body for your season–
Goals shape your preparation for the season, I take into account what trips I want to do and what runs I want to tour. Questions I ask to determine the level of training necessary:
Are we camping?
And do I want to go there?
Wapta**-Light Pack, Comfy Huts, Big Mountains
Baker**-Med Pack, Less Miles, More Skills
Spearhead-Med Pack, Big Mountains, Easy Access
Forbidden-Med Pack, Big Mountains, Big Approach & Long Days
I use Uphill Athlete's Ski Mo and Hut to Hut programs to balance my fitness needs for the ski season. You need to trust the process and commit the time for you to see the training payoff. Backcountry touring is an endurance event first and foremost so you need to train like it, best advice is to give the big days you need to your weekends and the rest comes in smaller chunks that you can do on the road or in the gym.