Every season around this time—often sooner—we start dreaming about winter. Before long, our dreams turn into plans and plans become reality. This evolution from office-time daydreaming in the fall to shredding wintertime powder is a process that we shouldn't take lightly, and it rarely is, especially when it comes to our gear. If you're a backcountry snowshoer, skier or rider, odds are you already prepping for the coming snow. The most important piece of equipment is your body, and you take care of it by working on your physical and mental fitness.
How to Train your body–
Goals shape your preparation for the season, I take into account what trips I want to do and what runs I want to tour. Questions I ask to determine the level of training necessary:
Are we camping?
And do I want to go there?
These are just examples of trips with packs, you could be planning on the Kendall Adventure Zone or La Grave…
Wapta**-Light Pack, Comfy Huts, Big Mountains
Baker**-Med Pack, Less Miles, More Skills
Spearhead-Med Pack, Big Mountains, Easy Access
Forbidden-Med Pack, Big Mountains, Big Approach & Long Days
I normally use Uphill Athlete's 16 week Ski Mo and 8 week Hut to Hut programs to balance my fitness needs for the ski season. You need to trust the process and commit the time for you to see the training payoff. Backcountry touring is an endurance event first and foremost so you need to train like it, best advice is to give the big days you need to your weekends and the rest comes in smaller chunks that you can do on the road or in the gym. The 16 week Skimo program is suited to building high powered uphill fitness for gaining the vertical you find in the Cascades where climbs of 3-4,000' are common.
This season (2021-22) I enlisted the help of The Alpine Training Project, a fitness and physical therapy center. My back surgery in July has left me with more work to get into shape this season. My first session with Mitch was thorough and his assessments gave me insight into my deficits. I am just starting my program and excited for where i will be by the Holidays! The next 2 months are the right time to get on it!
How to train your brain-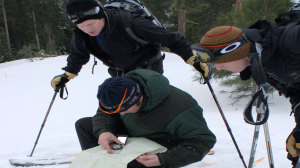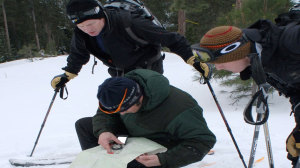 It's good practice to prep for your season by changing the batteries in your avalanche beacon, getting your skis/board tuned, dialing-in your pack and other gear, and maybe you're even sweating away in a conditioning class at your gym. Volumes of enlightening articles have pontificated about this pre-season ritual—both print and online. But what about a tune-up of your brain? For Avalanche Safety read more from Executive Director of NWAC
Scott Schell on what it takes to get your mental game ready.
Sharpen your mental game with New Tools for planning ski tours this season such as:
The weather resources that the Kyle McCrohan put together needs no other addition, read it and book mark everything in it for the rest of the season! Apps like Windy, Avalanche and Gaia all help dial in the weather and avalanche forecasts then plot and navigate your tour with a digital track. Digital and printed Guidebooks for Snoqualmie Pass, Olympic National Park, Baker and Crystal on Rakkup then test your tools at the Intro to Touring Seminars.
Read about our gear choices next week!